Siding Installation
---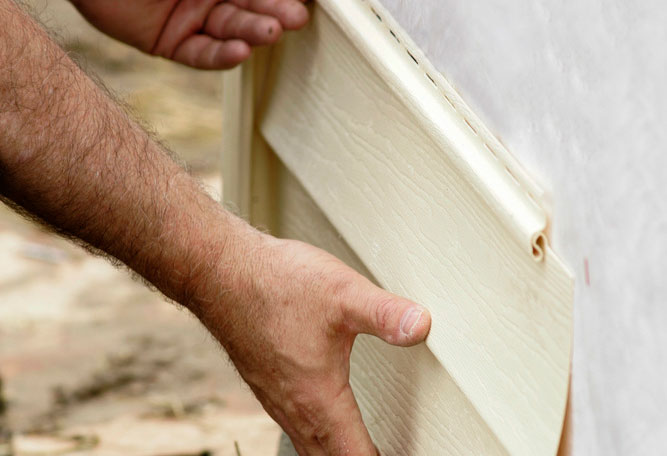 Local Siding Contractors in Bucks County
Whether you have just purchased your first home or you are looking to update your home's exterior, you want to bring in a local siding installation and replacement contractor you can trust to protect your house from the elements.
At Trilogy Exteriors, our trained and certified residential siding specialists provide reliable siding services punctually and efficiently to the residential homes in Bucks County, PA, and Montgomery County, PA.
Vinyl Siding Installation in Montgomery County
With over 30 percent of American residences using vinyl siding, we highly recommend considering this material for your next siding installation project. Although we do suggest looking at all the siding alternatives to find the right option for you, you should still understand the many advantages a vinyl siding installation could afford you. Vinyl is an extraordinarily tough and aesthetically-appealing siding option, so once it's installed, it will stay with your home for a very long time.
 Below, we have provided a list of benefits you can enjoy if you choose vinyl siding:
Affordable
Vinyl is often the least expensive residential siding option. The cost of vinyl siding is roughly half the cost of wood siding, plus you can save more on installation and upkeep costs, as this option is easier to clean and maintain.
Color Choices
With other materials, color choices are limited most of the time. But, with vinyl, you can have your pick! We offer a wide selection of color choices so that you can achieve your vision of your home's exterior.
House Protection
Vinyl is a reliable and long-lasting material specifically designed to weatherproof your home. It can resist wind, rain, ice, and snow, and it does not retain moisture as wood does, so you won't have to worry about mildew and mold.
Durable
Vinyl siding is manufactured to last for a lifetime and is second only to the durability of stone and brick. Vinyl can also hold its color longer, so fading and blotchy coloration is a thing of the past.
In addition to the listed advantages of a vinyl siding installation, this material can also increase your home value due to its popularity for residents in the U.S. It will boost your home's energy efficiency and minimize maintenance costs at a genuinely affordable price. At Trilogy Exteriors, we have a dedicated team of local siding contractors who can perform high-quality siding installations and replacements for your home while cutting down on installation costs.
Choose Trilogy Exteriors Contractors
We at Trilogy Exteriors are your trusted local siding contractors in the Bucks County, PA, and Montgomery County, PA, region. We provide professional and efficient siding installations and replacements for less money than our competitors, and we intend to keep it that way. With the advanced protection, color options, and durability of vinyl siding, along with our extensive experience in the industry, we guarantee your satisfaction.

Additionally, our home exterior experts can also perform Hardie Backer Board installations – ideal for moisture-proofing floors and tile adhesion – and stone veneer installations for added siding elegance and aesthetic appeal. For more information about Trilogy Exteriors and the many siding and construction options we offer, give us a call today!