Gutter Installation
---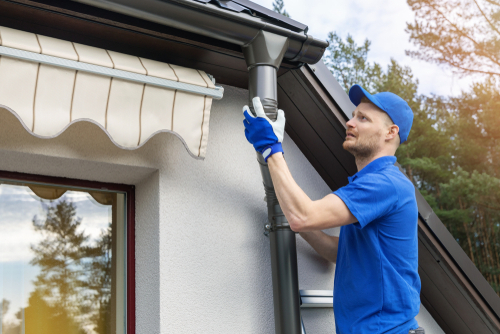 Gutter Installation Services for Homes in Bucks & Montgomery County
Gutters are an essential part of a home, but they're easily ignored. You know it's necessary to keep them in good working order, but you never realize how necessary that is until your gutters stop working properly or become an eyesore on your home's exterior.
Maybe both of those things have happened to you, but you're putting off a new gutter installation because you're worried about having to spend too much.
Trilogy Exteriors understands. That's why we offer affordable and reliable gutter services for our valued customers in Bucks County, PA, and Montgomery County, PA. Our years of experience, reasonable rates, and unparalleled customer service have made us a leader in our industry, and our success installing new gutters throughout our community makes us the perfect team to tackle your challenge.
Give us a call today to get started!
When Do You Need A New Gutter Installation?
Obviously, if you're undertaking any kind of new construction project, such as building a home addition or putting in a pool house or garage, you need to hire professionals for a home gutter installation. And we're just the professionals for the job!
What about existing gutters? When you own a home, gutters are not exactly a subject you think about every day, and their upkeep can easily fall through the cracks of a hectic schedule. How do you know it's time for a new gutter installation?  
Here are a few warning signs that you need to call the gutter experts at Trilogy Exteriors:
Your gutters are cracked or split apart
Your gutters are discolored or rusty
Your gutters are sagging
You notice water damage along the edges of your roof
You notice water damage along the edges of your foundation
You notice water seeping into your basement
Gutter systems typically last for about 20 years, so if you've owned your home for a few decades and have never even thought about new gutters for the house, it's a good idea to give our local gutter installers a call to come out and do an inspection.
If it turns out you do need us to do a home gutter installation, you can rest assured that we'll get the job done as quickly, cleanly, and safely as possible while staying within your budget. Our owners oversee every new gutter installation to make sure all safety precautions are in place, and no detail is overlooked.
We know you'll love our work, our prices, and our friendly service. That's the Trilogy trifecta!
Trilogy Exteriors: Your Local Gutter Installers — And More!
Residents of Bucks County and Montgomery County, PA, have been counting on us for years to be there when they need new gutters for their houses or have their existing gutters repaired or cleaned. But new gutter installation is just one of our many areas of expertise.
Call Trilogy if you're planning any kind of residential roofing or siding project, for brand new building construction or the restoration of older homes — and everything in between. With our help, your vision for the home of your dreams can become a reality! Learn more by contacting our team today!